Flower Precure character album ~May Richards~
is part of Flower Precure and belongs to Hickmanm
I request you not to edit any of this article unless you have my permission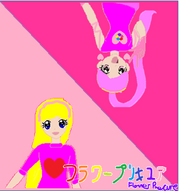 Flower Precure character album ~Hoshina Sakura~ (フラワープリキュアキャラクターアルバム〜保科さくら〜 Furawāpurikyuakyarakutāarubamu 〜 Hoshina sakura 〜) is a character album for the lead cure of Flower Precure, May Richards. The album features Japanese and English character songs of May Richards plus an opening sung by May as well.
Tracks
Ad blocker interference detected!
Wikia is a free-to-use site that makes money from advertising. We have a modified experience for viewers using ad blockers

Wikia is not accessible if you've made further modifications. Remove the custom ad blocker rule(s) and the page will load as expected.